no embargo - 30 October 2007 ( Back to news releases)
Steven Burke: 2young2die
Vigil at Minshull Street Crown Court, Manchester, Tuesday 6th November, from9.30 am outside the trial of companies involved in death of 17 year old scaffolder Steven Burke
Please support the family of Steven Burke, in a vigil at the trial of two of the companies involved in his death, which starts on Tuesday 6th November, at Minshull Street Crown Court, Manchester. Vigil from 9,30am.
Steven Burke, a 17 year old trainee scaffolder from Levenshulme, Manchester, was working for 3D Scaffold on the 30th January 2004 when he fell 10 to 16 metres from scaffolding inside an empty sewage digester tank being refurbished at the Davyhulme Waste Water Treatment Plant. He sustained serious head and abdominal injuries from which he later died in Wythenshawe hospital. The HSE Inspector Mr Nicholas Rigby, gave evidence at Steven's inquest on the substandard methods of scaffold construction, lack of safety measures, inadequate supervision and emergency procedures. This led to Steven being engaged in an unnecessary and unsafe procedure during which he fell.
On the day of the incident, Steven was in a four man team completing the construction of birdcage scaffolding inside an empty 20 metre high digester tank so that work on the underside of the domed roof could be carried out by another company RAM Services Ltd. This involved entering though manholes and working in confined spaces. The main contractor was Mowlem PLC, Steven's employer was 3D scaffolding and RAM Services Ltd. were also involved. (3)
Steven's parents, Barbara and Bernard, and family have been devastated by his death but want his story to be heard as "He was far too young to die and we want employers to act now to prevent other young people being killed at work by their negligence." Said Barbara Burke
FACK, Families Against Corporate Killers (1), support the Burke family's fight for justice and also for deterrent penalties to make other construction employers think twice before they take risks with workers lives: "Steven was two young to die but like other young workers was especially at risk (2). Killing young workers through lack of supervision or other negligence is totally and utterly unacceptable and we need employers to act now to stop these totally preventable deaths and courts to hand out penalties that make them do so. Deaths in construction for 2005/06 are up 28% on the year before, the majority of these deaths are not accidents but due to employers failing to manage health and safety and/or flouting the law. Workers will only be safe on sites when employers comply with the law, co-operate with workers and trade unions, and when the HSE enforces strongly and courts punishes criminal employers when they don't.comply."
For more information contact Hilda Palmer 0161 636 7557
1. FACK was launched in July 2006 with the support of the Hazards Campaign. We have spoken at many public meetings and conferences, including the CBI; launched FACK at the STUC in Scotland; spoken at International Workers Memorial Day events on 28th April in Edinburgh, Glasgow, York, Manchester and Oldham. FACK leaflet and information available on website www.fack.org.uk Tel 0161 636 7557 mail@gmhazards.org.uk
In Britain, a worker aged between 16 and 24 years old suffers a reported workplace injury requiring more than 3 days off work every 12 minutes of every working day. A young worker is seriously injured at work every 40 minutes. Workplace fatalities in the 16-24 age range occur at a rate of more than one a month.
There is evidence work is becoming more hazardous for young workers. The combined total for "fatal and major injuries" in 16-24 year old employees has trended upwards in recent years. The figure is higher now than at any time in the last ten years, and has increased year on year for each of the last five years.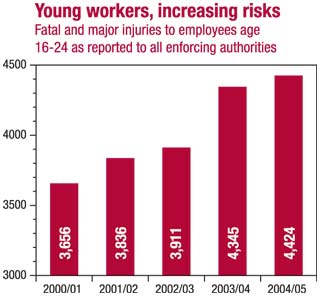 3. The inquest heard from HSE Inspector, Mr Nicholas Rigby, that the scaffolding was almost completed up to roof level but there were errors in the method of construction of the scaffolding, which did not meet expected industry standards approved by the HSE. These included failure to complete platforms and secure ladders on the way up, lack of guardrails and toe-boards. There were also issues about inadequate safety harnesses and the man in charge of the job was no more qualified than Steven. This led to Steven and the worker in charge of the team climbing back down scaffolding poles rather than a ladder, to carry out a task that shouldn't have been necessary had the scaffolding been built in the proper manner and to the industry standard. In the opinion of a HSE scaffolding expert, there were 2,500 too few scaffolding poles used and many less boards than necessary. The Inquest verdict was accidental death. No manslaughter charges were brought. H&S Prosecution on 6th November 2007.